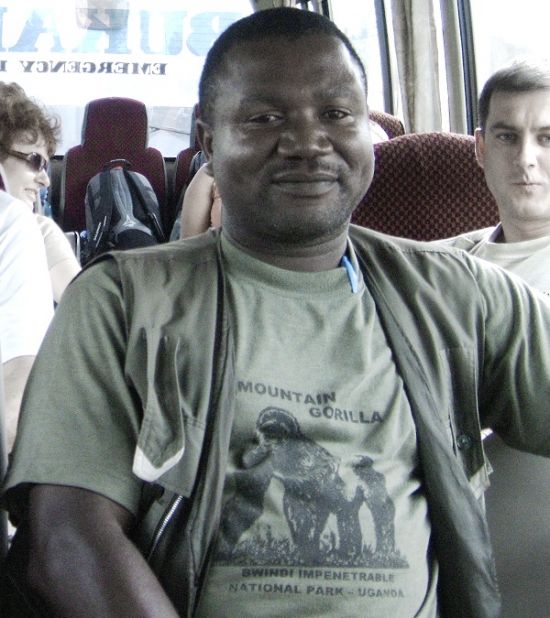 David Baluku (aka Papa), after his graduate course in tourism and wildlife conservation at Nkumba University, worked with the Uganda Wildlife Education Center (UWEC) for seven years as a head primate/Rhino sections. Within this period David excelled further and surveyed all the forest blocks in Uganda on a chimpanzees (Pan-troglodytes) census project  and other forest monkeys and mammals under the Wildlife Conservation Society (WCS) and Jane Goodall project.
 Furthermore he trained as a rhino keeper in Holland (Safari Park Beekse Bergen) in preparation to bring rhinos back to Uganda after twenty years of declared extinction. This was successful and two rhinos were imported from Kenya (Solio Ranch) to UWEC for exhibit and education purposes.
 In 2003, he was offered a training scholarship by Durrell Wildlife Trust (DW) in Jersey-UK for a DESMAN (Diploma in Endangered Species Management) course at the International Training Center initiated by the University of Kent and then after, he held several workshops at UWEC concerning animal behaviour, welfare, outreach and enrichment among others. www.durrellwildlife.org
 After a long success in conservation, a DESMAN course from the DW added value to David's career until when Rhino Fund Uganda selected him to head the Education Department at Ziwa Rhino Sanctuary where he worked for two year as an education officer and left later after training two successors. www.rhinofund.org
 Having rhinos at Ziwa Rhino Sanctuary was the second phase of re-introducing rhinos back to Uganda and the last phase would be releasing rhinos offspring into the wild where they existed before. This phase will depend on many factors including political stability of the country and more support from the conservationists allover the world.
 With this experience, David decided to form a non government organization (Community Livelihood and Wildlife Outreach) and become employed to run and coordinate the organization. Currently he is the founder and project coordinator of a community project (www.clwo.org). With much emphasis put forward in ensuring that local communities benefit from tourism "Eco-tourism" David also initiated and registered a Safari Company (Kifaru African Expeditions) which generates finances that contributes to the success and building of the community project (www.clwo.org). By traveling with Kifaru African expeditions Ltd, you real contribute so much to the community's social and economic development.

Let's go travel, conservation and education!