Most of Kifaru African Expeditions' Safaris itineraries in Uganda and Rwanda provide accommodations on a full-board basis in comfortable hotels, tents and lodges. Travel is by open-roof Landcrusers, Jeeps and or Minibuses, which is 4-wheel allowing our visitors to see the very best of the country side and wildlife.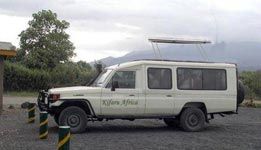 Most lodges and hotels in Uganda and Rwanda have private facilities with comfortable rooms, restaurants, and bars. Some venues will have a swimming pool and game rooms. The Lodges in the national parks are situated to provide excellent views of rivers, lakes, watering holes, plains, or famous mountains.
Normally, you will be picked up at the airport upon entering Uganda and chauffeured throughout your stay by uniformed multi-lingual guides. Most package prices include; transportation, gorilla & chimpanzee trek permits, meals, park entrance fees, water and other activities in the parks.
Game viewing is dependent upon the location of the animals at the time of your visit. No guarantee can be made that you will see any animal. Often, visitors who wish to view the Eastern Mountain Gorillas in their natural habitat choose to buy passes on two consecutive days to better insure seeing the gorillas.
Our experienced guides strive to make your trip to East Africa an exciting and memorable experience and we'll do everything we can to make your African adventure safe and comfortable.